Monica Cattarossi, lives in Milan and works in the field of chamber music and accompaniment, as an interpreter, chamber musician and lecturer. Invited to the most important international festivals, she has performed in prestigious venues collaborating with artists such as Salvatore Accardo, Julius Berger, Rocco Filippini, Antonio Meneses, Danilo Rossi, Dora Schwarzberg, among others. With the renowned cellist Enrico Dindo she has established a solid ten-year artistic collaboration, and together they recorded the work of Astor Piazzolla for cello and piano.
With the young, talented cellist Erica Piccotti she recently performed in New York and Philadelfia; for many years she has played all over Italy in concerts organized by the "Gioventù Musicale d'Italia" association. As a pianist of the Orchestra Sinfonica "G. Verdi"of Milan she has recorded "The Thousand and One Nights" by Victor De Sabata for the Universal label, playing with conductors such as Riccardo Chailly, Wayne Marshall and Zhang Xian, among others. She collaborated at the Summer Academy of Mozarteum University in Salzburg, Summer Festival in Neuburg, Academy "Walter Stauffer" in Cremona, Accademia Chigiana in Siena as piano accompanist. Monica recorded André Jolivet's whole work for two pianos for Brilliant Classics Cd Label with Filippo Farinelli.
She holds the piano accompaniment chair of the "Conservatorio della Svizzera Italiana" University of Lugano, and of the chamber music chair at the Conservatory "G. Cantelli" of Novara, and held master classes at the Sapporo Music University, the Seoul Chamber Orchestra, the Gdańsk Music Academy.
Monica Cattarossi risiede a Milano e lavora nell'ambito della musica da camera e dell'accompagnamento, come interprete, camerista e docente. Invitata a suonare ai più importanti festival internazionali, ha tenuto concerti in moltissime sale prestigiose collaborando con artisti quali Salvatore Accardo, Julius Berger, Rocco Filippini, Antonio Meneses, Danilo Rossi, Dora Schwarzberg tra altri. Con il rinomato violoncellista Enrico Dindo, con il quale ha stretto una decennale e solida collaborazione artistica, ha registrato l'opera di Astor Piazzolla per violoncello e pianoforte. Insieme alla promettente violoncellista Erica Piccotti si è esibita recentemente all'Istituto di Cultura di New York e al Trinity Center for Urban Life di Fhiladelfia; per anni ha suonato in tutta Italia nei concerti organizzati dall'Associazione "Gioventù Musicale d'Italia".
Come pianista dell'Orchestra Sinfonica "G. Verdi" di Milano ha inciso "Le mille e una notte" di Victor De Sabata per l'etichetta Universal, suonando con direttori quali Riccardo Chailly, Wayne Marshall e Zhang Xian, tra altri. Ha collaborato con l'Università Mozarteum di Salisburgo, il Festival di Neuburg, l'Accademia "Walter Stauffer" di Cremona e l'Accademia Chigiana di Siena come accompagnatrice pianistica. Ha registrato assieme a Filippo Farinelli l'opera completa di André Jolivet per due pianoforti, per l'etichetta Brilliant Classics.
Titolare della cattedra di accompagnamento pianistico della Scuola Universitaria "Conservatorio della Svizzera Italiana" di Lugano, e della cattedra di musica da camera presso il Conservatorio "G. Cantelli" di Novara, ha tenuto master classes presso la Sapporo Music University, la Seoul Chamber Orchestra, l'Accademia di Musica di Danzica.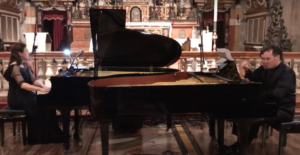 Messiaen